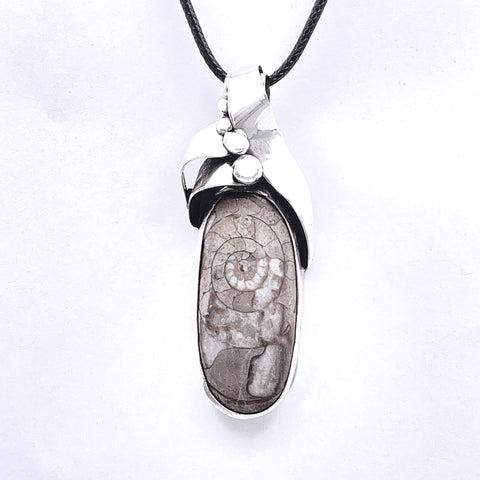 Ammonite Sterling Silver Pendant
Ammonoids are a group of extinct marine mollusc animals in the subclass of Ammoneidea of the class Cephalopoda.  These molluscs are commonly referred to as Ammonites.  Ammonites belong to a group of predators known as cephalopods which include their living relatives the octopus, squid, cuttlefish and nautilus.   These are 65 million year old fossils.   Today they are found in mountains and sedimentary basins including quarries, sea coasts, river shores, deserts, canyons and even underground cellars." 
This Ammonite is embedded in fossilized seashell and has quite a long "tail".  Bezel set in Sterling Silver and accented with waves of silver this pendant measures 3"long x 7/8"wide.  Pendant comes with black cord for immediate wear.
---
We Also Recommend